11/07/2007 B&B Awarded Service Contract From Carlsberg UK
---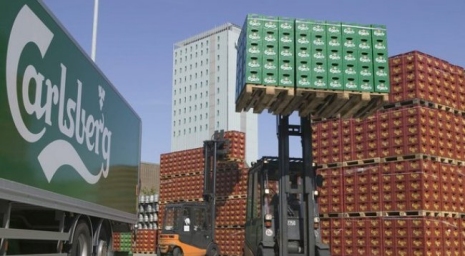 When Carlsberg UK made the decision to centralise servicing of its keg clamps to improve the downtime and reliability at the company's 13 depots throughout the UK it turned to B&B Attachments. B&B Attachments has signed a service agreement with Carlsberg UK to maintain the company's 80 keg clamps and replace them on a regular cycle.
The servicing of the keg clamps is managed by B&B Attachments from its sites in Newbury, Berkshire and Cramlington, Northumberland. B&B offers Carlsberg UK service support to ensure maximum availability of the attachment and truck combination at all times. Engineers carry out planned inspections four times a year to check the pressure of the hydraulics and test for cracking. In addition they attend call-outs, breakdowns and repairs on a national basis.
B&B Attachments provide us with good response times on call-outs, they refurbish clamps and also provides with new Kaup keg clamps on a regular cycle of replacement, which will mean that this year we will be purchasing 15 new clamps from them
Normally, forklift truck attachment suppliers have one or two service engineers to cover the whole of their customer base. B&B Attachments takes customer service in the attachment industry to a new level by offering improved servicing schedules and faster response times with a fleet of 11 mobile service engineers strategically located throughout the UK as well as five depot based engineers.
We wanted to ensure that we had the best possible operating standards in place. Signing the agreement with B&B Attachments has improved downtime and resulted in less wastage from dropped kegs
B&B Attachments' close ties with Carlsberg UK indicate a change of direction for the brewing industry. Carlsberg UK was looking for a partner that could provide added value and had the necessary infrastructure to maintain the attachments to ensure maximum uptime on both trucks and attachments and ensure they work in synergy.
B&B Attachments is the exclusive UK distributor for Kaup forklift attachments. Kaup has been supplying keg clamps to Carlsberg since 1978 when a packaging manager working for Joshua Tetley (now Carlsberg UK) in Leeds asked the company if it could manufacture a clamp to handle kegs and casks.
There are currently over 600 Kaup Keg Clamps in operation throughout the UK's major breweries and distribution centres all providing excellent visibility, fast, reliable operation and durable construction. Standard features include low profile stabiliser with long lasting rubber pads, solenoid valve and end of stroke cushioning on sideshift movement. Available in alternative operating ranges, non-sideshifting versions and varying tine and stabiliser lengths, the Keg Clamps enable a secure grip of kegs and casks and allows for easy pallet handling without the removal of the centre tine. Quick release mountings or integral mountings for connecting to a lift truck are available as optional extras.